Funny Easter eCards
Funny Easter greetings
The winter chill has thawed, flowers are in bloom and there's a giant bunny hiding eggs in your yard: what's not to laugh about during Easter? Share the hilarity this Easter with your friends and family by sending Doozy Cards' Funny Easter eCards.


Dancing Easter Doggies
NEW!


Max & Puppies Egg Hunt


Chocolate Bunny Strip Club
Mature Content


Tap Dancing Bunny


Golden Retrievers Easter


Easter Mariachis


Easter Tap and YOU!
Photo Insert Card


Bunny in The Office


Easter Egg Hunt GAME


Bunny Boogie


Bunny Boogie and YOU!
Photo Insert Card


Bunny Auditions


Surprise Basket


Latasha Easter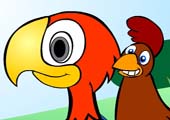 Where Easter Eggs Come From
Easter


Talking Kitty


Egg Chase

Magical Basket for Grandson


Magical Basket for Granddaughter


Peep Show


Talking Egg


Gecko Bunny


Baby & Kitty Rumpus


Egg Surprise